*This post may have affiliate links, which means I may receive commissions if you choose to purchase through links I provide (at no extra cost to you). As an Amazon Associate I earn from qualifying purchases. Please read my privacy policy/disclaimer for additional details..
Cleveland has so much to offer as the largest city in Northeast Ohio. Greenery surrounds the city where it is situated along the southern shore of Lake Erie. There is much to consider when deciding where to live or visit in Cleveland.
What are some of the best neighborhoods to live in or visit in Cleveland?
This article will give you some insight into the numerous features the neighborhoods of Cleveland have to offer.
Cleveland Attractions and Perks
There is so much to see and do in Cleveland. Connect with nature when you spend the day in the water at the Cuyahoga River and Lake Erie. Hike through the wonderful trails and take in the beautiful scenery in Cuyahoga Valley National Park and Cleveland Metroparks. And satisfy your appetite with Cleveland's trendy restaurants, coffee and tea shops.
Connect with art and history with the city's countless museums such as The Cleveland Museum of Natural History or Cleveland Museum of Art. Immerse yourself with live art and entertainment such as theaters, broadway shows, orchestra, ballet, and festivals.
Gather your family for a fun day visiting the zoo, botanical gardens, science centers, and lakefront parks. It is also easy to get around by public transportation on Clevelands' rapid rail system. It is extensive and runs throughout the city.
Cleveland is culturally diverse with a vibrant mix of families, college students, entrepreneurs, and young professionals. The cost of living in Cleveland is lower than the national average but gives you a high quality of life.
They have world-class healthcare services, a wide selection of quality education options, and vast amounts of green space. Cleveland definitely has a lot to offer for families.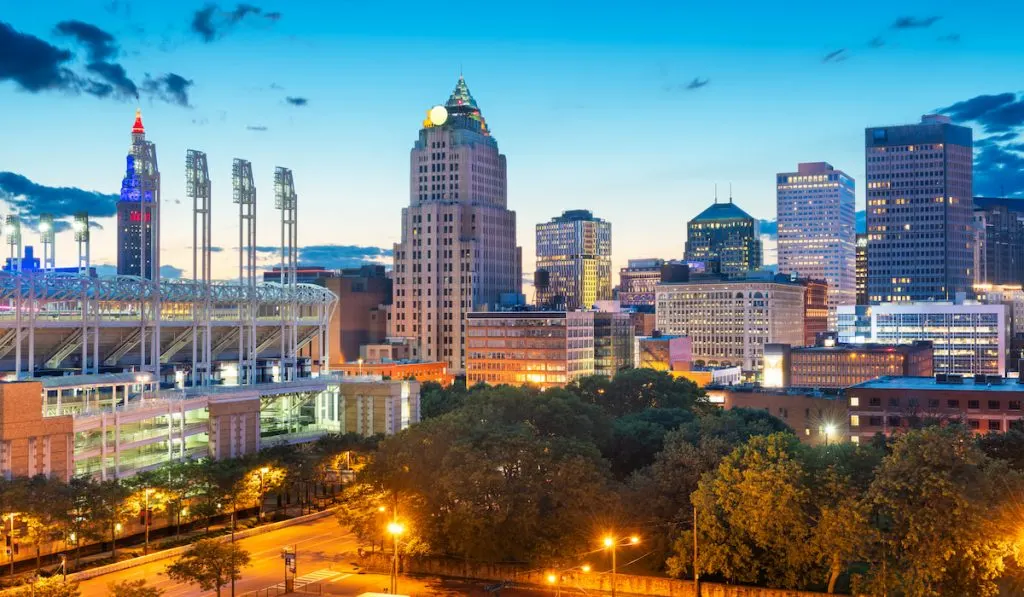 Top Cleveland Neighborhoods
There are many considerations in choosing a neighborhood for families to live in including different house styles, safety, quality of schools, convenience, and location.
Here are some of the best neighborhoods in Cleveland that have great schools, high home values, low crime, and access to green space.
Kamm's Corner
On the west side of Cleveland, Kamm's Corner is a safe and friendly neighborhood that is popular with families, business owners, and young professionals. Kamm's Corner is a family-friendly community and is one of the most affordable neighborhoods in Cleveland for renters.
Kamm's Corner has a lot of fun shops, restaurants, and bars that are walkable. The quiet neighborhood comprises large apartment complexes and sleek Tudor and craftsman-style homes that have mainly middle-aged homeowners.
You can get a good education at the nearby schools of Riverside and Saint Joseph Academy, to name two.
Fun Activities in Kamm's Corner
Kamm's Corner has tons of family-friendly activities, outdoor recreation, and entertainment. Play golf at local courses in the area such as the Little Met Golf Course or Mastick Woods Golf Course.
Go on a nature walk at the 75-acre green space of the Rocky River Reservation at Tyler Barn. Go swimming and shoot some hoops at Gunning Park Recreation Center with amenities such as a swimming pool, gym, and sauna.
There are community gatherings and activities to create a strong and vibrant community like the Kamm's Corner Farmers Market and The Hooley on Kamm's Corner that has live music, dance performances, and activities for kids.
Tremont
One of the oldest and largest neighborhoods in Cleveland, Tremont is a safe and vibrant urban village. It is a desirable neighborhood for young families and millennials, although it is one of the most expensive places to live in Cleveland.
Tremont is largely residential and just minutes away from downtown. The neighborhood has a mix of single-family homes and apartment complexes.
Tremont is a great area for arts and culture and has a thriving local art scene. There are numerous art galleries, restaurants, coffee shops, and trendy boutiques.
Fun Activities in Tremont
Enjoy the outdoors at Tremont Park or visit the historic Lincoln Park which serves as the town square with beautifully restored Victorian homes that surround it.
Two popular cultural attractions in Tremont are the Liminis Theater and A Christmas Story House.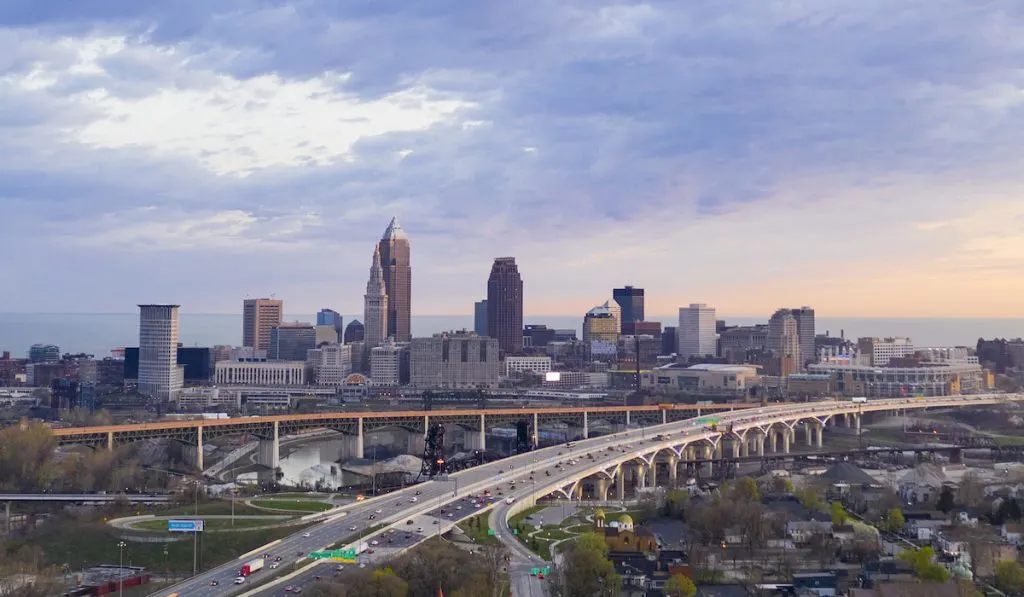 Ohio City
Just five minutes from downtown and Lake Erie, Ohio City is one of the safest neighborhoods in Cleveland. The up-and-coming neighborhood is great for art, business, gathering, and living. Ohio City has a mix of modern apartments and historic homes.
It has top-rated schools such as Saint Ignatius High School, which is within walking distance from single-family homes and apartment complexes in the area.
The quiet neighborhood has plenty of shopping and trendy dining and restaurant spots.
Fun Activities in Ohio City
Stroll around the historic West Side Market and check out the 100 locally owned shops.
Spend the day outdoors at the 22 acres of green space in Lake Erie's Wendy Park or rent a boat or a kayak for a day on the Cuyahoga River at Great Lakes Watersports.
Volunteer at Cleveland's largest urban farm, Ohio City Farm, or visit the Greater Cleveland Aquarium where the kids will have tons of fun.
Solon
A suburb of Cleveland, Solon has been recognized as one of the best places to live and raise a family in the country.
It is one of the safest places to live in the state and the area offers the best school districts in Northeast Ohio with schools such as the Parkside School and the Roxbury School.
Surrounded by acres of scenic parkland, Solon is the suburb of choice for parents looking for quality education for their children.
Fun Activities in Solon
There are a lot of activities in Solon for all ages, from engaging arts, outdoor and recreational activities, and community events. Head to Timberlake Recreation Park for fishing and picnic or play golf at Grantwood Golf Course.
Learn art, music, dance, and theater at the Solon Center for the Arts, which offers classes and also entertains and educates local families.
The Solon Recreation Department organizes programs for kids in the community as well as for adults and senior citizens.
Lakewood
On the southern shore of Lake Erie, Lakewood is part of the Greater Cleveland Metropolitan Area. A quick drive and an easy commute from downtown, the sizable population of homeowners and renters consists of families, singles, and young professionals.
The growing community of Lakewood has charming homes with yards that were built in the early 1900s. Houses are large and reasonably priced. You will see spacious sidewalks, parks, and swimming pools.
Notable schools such as Lakewood High School, Horace Mann, and Hayes Elementary School are in the neighborhood.
There are dozens of cozy cafes, cheap eats, and great restaurants around.
Fun Activities in Lakewood
Bring the whole family to one of the several parks in Lakewood. Lakewood Park is a 31-acre lakefront park with multiple facilities such as an outdoor pool, tennis courts, skate park, museum, and so on.
Bring your dog to the Lakewood Dog Park or head over to Madison Park for kids to enjoy the playground and the pool.
Rocky River
Rocky River is a suburb of Cleveland. Near the lake and close to downtown, the quiet and established neighborhood of Rocky River has beautiful homes, safe streets, and lots of outdoor activities.
This is a great neighborhood for families and outdoor lovers. Highly-rated schools such as Rocky River High School, Rocky River Middle School, and Kensington Intermediate School can be found in the area.
Rocky River schools are ranked second in the whole state of Ohio.
The area has remarkable Victorian and Colonial-style homes and some houses have incredible views of the lake. There are also a number of high-end restaurants, shops, bars, and salons.
Fun Activities in Rocky River
Rocky River has easy access to Cleveland Metroparks and Rocky River Reservation. Check out the scenic trails, wetlands, meadows, and waterfalls for a day of fun outdoors. In the center of the reservation, you can go boating, paddleboarding, kayaking, biking, hiking, and fishing at the Emerald Necklace Marina.
Edgewater
Situated along Lake Erie, Edgewater has close proximity to Edgewater Beach and Edgewater Park.
Considered one of the most walkable neighborhoods in Cleveland, Edgewater has convenient access to various dining options, vintage shops, and recreational venues.
Get quality education in one of the top-rated schools nearby such as Louisa May Alcott Elementary School and Lake Erie International High School to name two.
Fun Activities in Edgewater
Edgewater Park offers lots of recreational activities. Bond with your family at Edgewater Park where you can hike, kayak, and sunbathe. Play beach volleyball and build sandcastles in Edgewater Beach or go sailing and fly a kite in Perkins Beach.
There are also community events such as the Edgewater Sidewalk Fest which brings the community together with awesome live music, food, games, and family activities.
Beachwood
The historical town of Beachwood has safe residential areas, diverse communities, outstanding schools, and has great shopping and restaurants.
The vibrant community is only 20 minutes east of downtown Cleveland and is a popular shopping destination. The tree-lined neighborhood streets have bungalow and ranch homes.
Fun Activities in Beachwood
There are a lot of parks and outdoor amenities for the whole family to enjoy. Take your kids to the community centers and summer camps in Beachwood or try out the largest fully accessible playground in Northeastern Ohio, the Preston's H.O.P.E. Playground Park.
Visit the Beachwood Family Aquatic Center which offers one of the best swimming pools in the region. Check out League Park and the Acacia Reservation. Shop at the Beachwood Place Mall, a premier shopping destination.
Brecksville
The affluent and peaceful community of Brecksville is a suburb in the Greater Cleveland area. Brecksville has wonderful views and 2,500 acres of protected parklands.
Brecksville has a small-town charm and boasts a rich history and natural beauty. The community has a park-like setting with notable old homes, medium-sized and large single-family homes, and modern condominiums.
Fun Activities in Brecksville
The Brecksville Reservation of the Cleveland Metroparks has 2,500 acres of parkland with fun activities to do for the whole family. Go horseback riding, hiking, skiing, or take your family out for a picnic.
Brecksville has close proximity to Cuyahoga Valley National Park where you can hike, ski, and enjoy the beautiful trails and waterfalls. Take a tour at Brecksville Town Square and explore the beautiful parks in the area.
There are also seasonal ski resorts nearby. Play golf at the Sleepy Hollow Golf Course, visit the local museums and check out the shopping areas.
Buckeye Shaker
On the east side of Cleveland is the Buckeye Shaker neighborhood, which has a rapid transit that connects the neighborhood to downtown Cleveland and the airport. Buckeye Shaker has the highest concentration of multi-family housing in all of Cleveland.
The area has historic multi-family and single-family houses, and rows of apartment buildings. Take your pick from large Colonial homes, small craftsman homes, or Colonial-style apartments and condominiums.
You will find great dining and entertainment options in the area with diverse shops, bookstores, and restaurants.
Fun Activities in Buckeye Shaker
Watch movies at the Atlas Cinemas, go ice skating at the Cleveland Skating Club, and play a game of tennis at Rockefeller Park.
Check out Shaker Square, a historic center built in the 1920s to get all your shopping done.
Resources