*This post may have affiliate links, which means I may receive commissions if you choose to purchase through links I provide (at no extra cost to you). As an Amazon Associate I earn from qualifying purchases. Please read my privacy policy/disclaimer for additional details..
Are you thinking about moving to Cleveland?
One of the good things about living in a big city is that it offers a lot and you don't necessarily need to have a car to get around. Still, Cleveland, also known as the Forest City, is fairly spread out, which means it can get tricky when you need to go somewhere and you don't have a car.
It's a lively city with excellent healthcare, good education opportunities, several big sports teams, and many other perks. There's also the Metroparks system, one of the best park systems in the whole country.
We're talking about an excellent location with a wide variety of amenities, unique shops, cultural attractions, museums, music venues, etc.
Coupled with that, the city offers many opportunities for young professionals, nature lovers, outdoor enthusiasts, families, and more.
There are 36 official neighborhoods in Cleveland and today we'll talk about the 9 best walkable and the safest locations. Ready to go?
Coventry Village
Coventry Village is a vibrant neighborhood with a wide variety of restaurants and bars as well as a charming assortment of local attractions and shops. For instance, if you're looking for trendy accessories and some unique items, visit Passport to Peru or City Buddha.
It's a place where everyone can find something for themselves. For instance, if you're a music lover, you'll be happy to see that Coventry Village has a lively and vibrant local music scene.
There are numerous big bands and smaller performances, together with a wide variety of festivals and summer events. Coventry Village is a place where you'll be able to enjoy things like author readings, live music in the park, and many other exciting artistic happenings.
Allow yourself to get lost in numerous antique shops which all hide interesting gems of their own.
Walking around this charming neighborhood is truly an experience. Plus, it's great if you're into bikes because Coventry has pretty strict bike laws, which makes it cyclist and pedestrian-friendly.
In most cases, homes are apartment buildings that are, in fact, renovated historical buildings located right above boutiques and restaurants on side streets.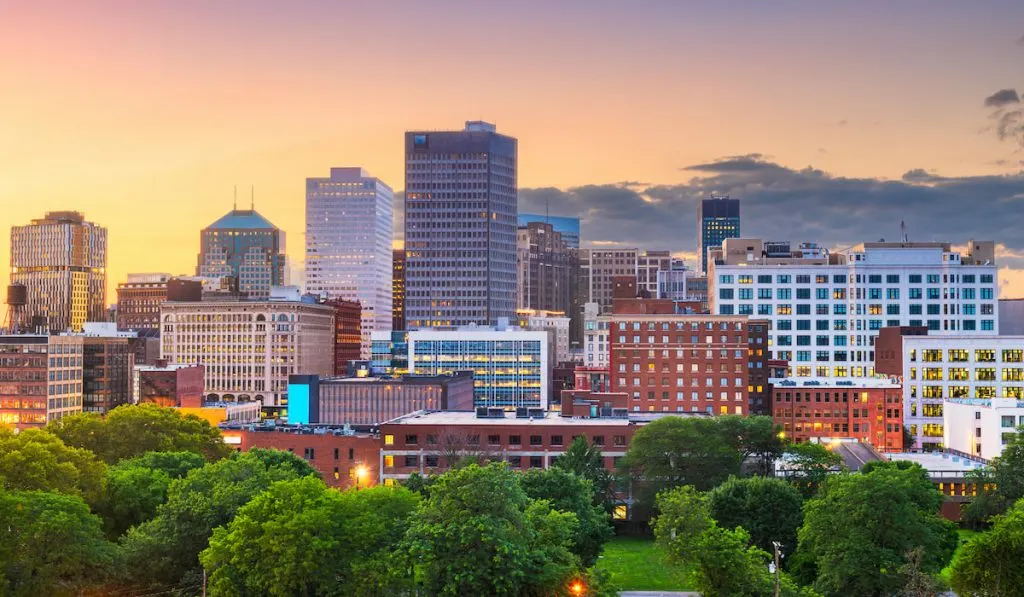 Downtown Cleveland
When you're in Downtown Cleveland, it's quite easy to go everywhere you need to on foot. This neighborhood is also very bike-friendly since there are numerous bike lanes as well as visible signage that reminds drivers to share the road.
You'll especially like this locale if you're into exploring new bars and restaurants, attractions, or some other interesting venues. For example, if you're looking for some casual place to eat a tasty meal, you can go to Bamel's BBQ, Barrio, Flannery's Pub, or Zocalo.
You'll easily find a place for great cocktails and fun events, too. Downtown Cleveland is home to one of the biggest theater districts—if you leave out Broadway in New York —thanks to Playhouse Square.
The great thing is all the interesting places you might like to visit are located close to each other, which means you can easily reach them without a car.
There are new buildings being built or renovated each month, which means the apartment market is constantly growing there.
Likewise, the price range in Downtown Cleveland is pretty wide, which means there are both renovated warehouses with exposed brick and big windows overlooking the nearby river to luxury, fully-furnished apartments available—and everything in between.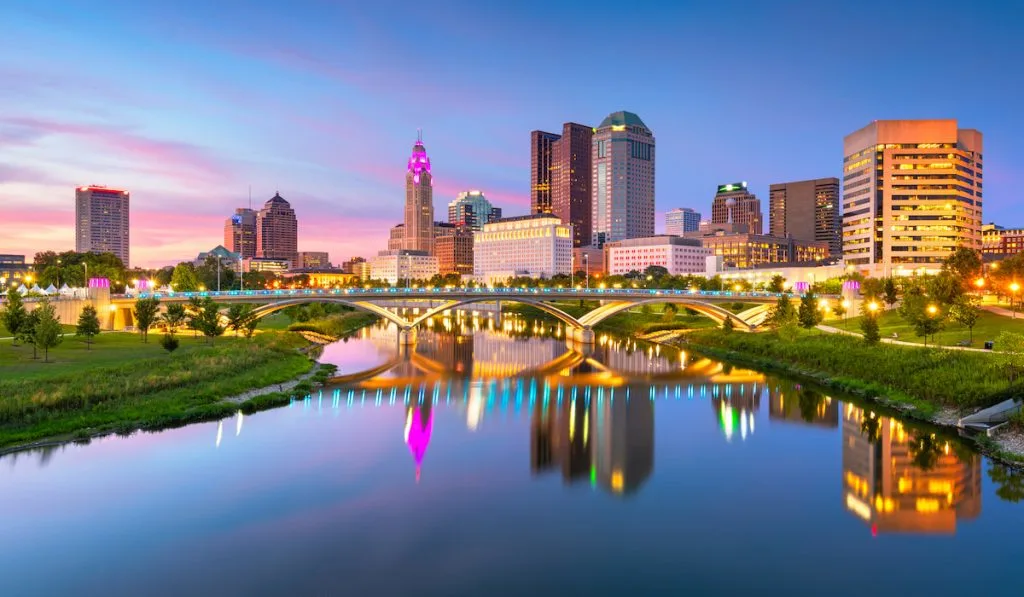 Ohio City
Ohio City is another incredibly walkable neighborhood in Cleveland. It's also home to a majority of the biggest and the top-rated breweries in the entire city.
When walking there, you'll come across numerous different bars, coffee shops, restaurants, local shops, etc. This is the area where you'll truly be able to enjoy excellent food and drinks.
As we have already mentioned, it's also a location where you can try out excellent beer, so don't forget to check out Bier Markt, Nano Brew, or some of the many other places to enjoy a beer with your friends after an exhausting day.
Ohio City is known for the amazing West Side Market as well. It's a historical spot that's been in business for over 100 years. In West Side Market, there are plenty of food vendors from local bakers and butchers to produce from farms and much more.
So, if you want to do something fun during the weekend, definitely check out this place! And if you're looking for some evening happenings, wait for the warmer period since there are many gigs and live music events.
The best thing—everything you want to visit is within reach.
Ohio City has an incredibly big commitment to sustainable living, which is why almost everyone has a bike. However, even if you decide to walk, most destinations you may need are probably going to be within a 15-minute walk.
This neighborhood has a pretty wide variety of elegant historical homes. Most of them have been renovated and divided into cozy, spacious apartments.
Of course, for those who don't want to live in a house and seek something different, there are many smaller apartment buildings available too.
University Circle
University Circle is home to Case Western Reserve University, which is a very pedestrian-friendly area. In other words, most of the locations you need are going to be about 10 minutes of walk wherever you are.
Similar to previous neighborhoods from our list, it's a place where you can easily go with a bike or simply use the free CircleLink shuttles.
University Circle brings a dazzling assortment of restaurants, cafés, locales, and bars. Among plenty of interesting places, it's also where Cleveland's Little Italy is located. There you'll find a wide variety of tasty meals such as spaghetti carbonara, cannolis, and more.
Check out spots such as Presti's Bakery, Mama Santas, ABC Tavern, and Ninja City just to name a few.
If you're into cultural events, University Circle is definitely a place for you! You get a chance to go to Severance Hall and listen to the Cleveland Orchestra which is ranked amongst the best in the world.
You can also head over to the Cleveland Museum of Art to check the artwork of the true masters. Cleveland Natural History Museum and the Cleveland Botanical Gardens are excellent and interesting options as well.
On the other hand, if you're more into modern art, you can always go to the Museum of Contemporary Art (MoCA).
This area offers plenty of different real estate options. This includes small apartment buildings, condos, duplexes, and high-rise buildings.
If you're thinking about moving there, it's best to wait and go right after the University ends the academic year. That's the time when most of the students move out and go home which means there are more vacancies available.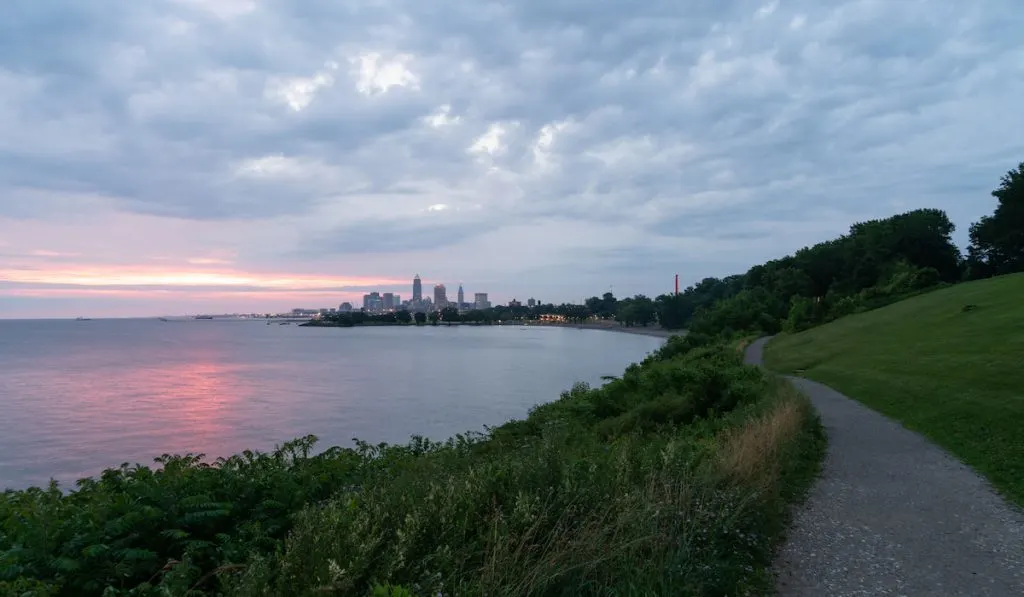 Edgewater
The Edgewater is one of the few neighborhoods in Cleveland that has access to the amazing Edgewater State Park as well as beautiful Lake Erie.
In this park, you'll find numerous recreational activities such as hiking or beach volleyball.
Of course, if you're into more relaxing things, you'll simply love having a picnic there or watching the sunset.
Edgewater Beach is another beautiful place this charming neighborhood offers. Whenever you want to do something fun, you can simply go for some beach volleyball or rent a cabana and spend the whole day by the water. All while enjoying delicious ice cream from one of the concession stands.
Nature lovers will be thrilled to find more than 1,000 feet of kayak access and swimming area. Dog owners, don't worry – your favorite pet is going to have a beach for themselves too!
An amazing view is filled with stunning mansions along Edgewater Boulevard. This neighborhood also offers plenty of quiet and peaceful spots to grab a bite or simply enjoy your coffee break.
For instance, there's a landmark restaurant called Don's Lighthouse, which is an excellent location for a relaxing drink or a tasty meal.
To satisfy your sweet tooth, places like MoCa offer desserts perfect for all sweet lovers.
Edgewater is definitely one of the most desirable and in-demand parts of Cleveland. Surprising or not, it's also one of the most affordable ones when it comes to renting.
When it comes to Edgewater, we're truly talking about a perfect spot for all of those who dream of beachfront living, beautiful nature, and peaceful vibes.
Tremont
Throughout the past couple of years, Tremont has been attracting plenty of young artists and professionals. This way, it has become some kind of secret hot spot for entertainment, events, and dining.
This charming neighborhood is now a place where you can find the majority of Cleveland's art galleries in general. Together with that, there are many interesting cultural attractions such as the Liminus Theater or the A Christmas Story House.
Tremont won't disappoint you when it comes to unique restaurants either (Lolita, Barrio, etc.). For those who like to enjoy the perks of nightlife, there are the Literary Café and The Treehouse.
It's where you'll find the oldest beer garden in Cleveland, Forest City Brewery. Coupled with that, you get to enjoy a wide variety of coffee shops and trendy boutiques.
Placed on the West Side on the Towpath Trail and only a couple of minutes away from downtown, Tremont is truly a bustling urban area that has a lot to offer. In fact, this is truly one of Cleveland's most popular and biggest neighborhoods.
One of the major reasons for that is Tremont is among the safest neighborhoods in Cleveland with a crime rate 60% lower than the city average. Still, it's also one of the most expensive parts of Cleveland. Home prices went up almost 80% in 2021.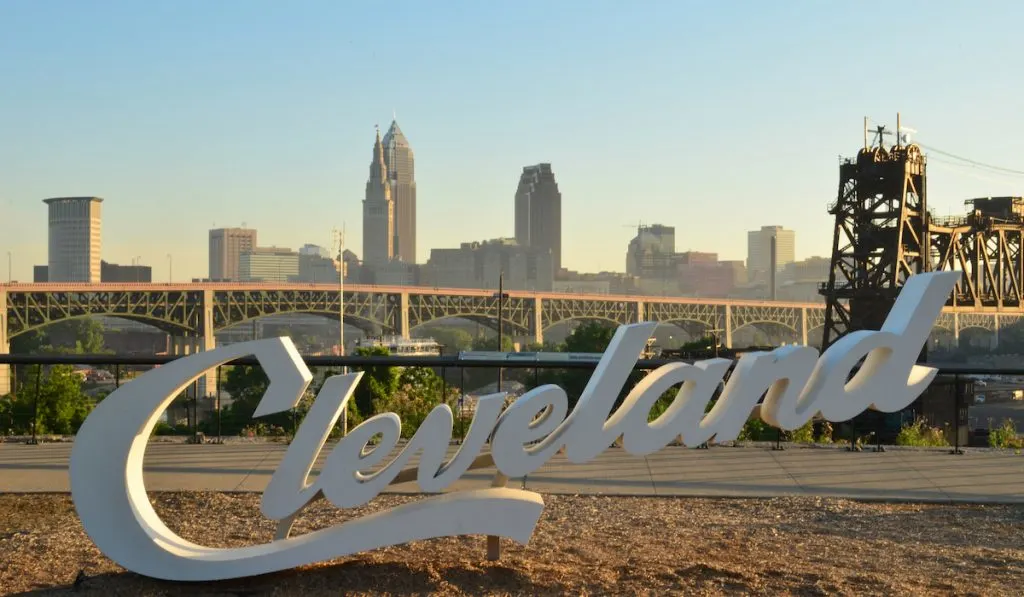 Kamm's Corner
Kamm's Corner definitely comes at the top of the list when it comes to the safest neighborhoods in Cleveland. Also called Kamm's Corners, it's a peaceful area where most people own their homes.
However, if you're looking for a place to rent, you'll be pleasantly surprised because we're talking about one of the most affordable parts of Cleveland.
It's a nice, calm, family-friendly community where you can find numerous amenities such as outdoor activities, shopping, and entertainment. The neighborhood also offers restaurants, bars, coffee shops, and stunning parks with relaxing vibes.
There are so many things you're going to love about Kamm's Corner. For instance, Rocky River Reservation. It's a large wooded area surrounded by a beautiful river.
You can go there through three entrances in the Metro Park, an area that features many amenities such as the Little Met Golf Course, the Mastick Woods Golf Course, etc.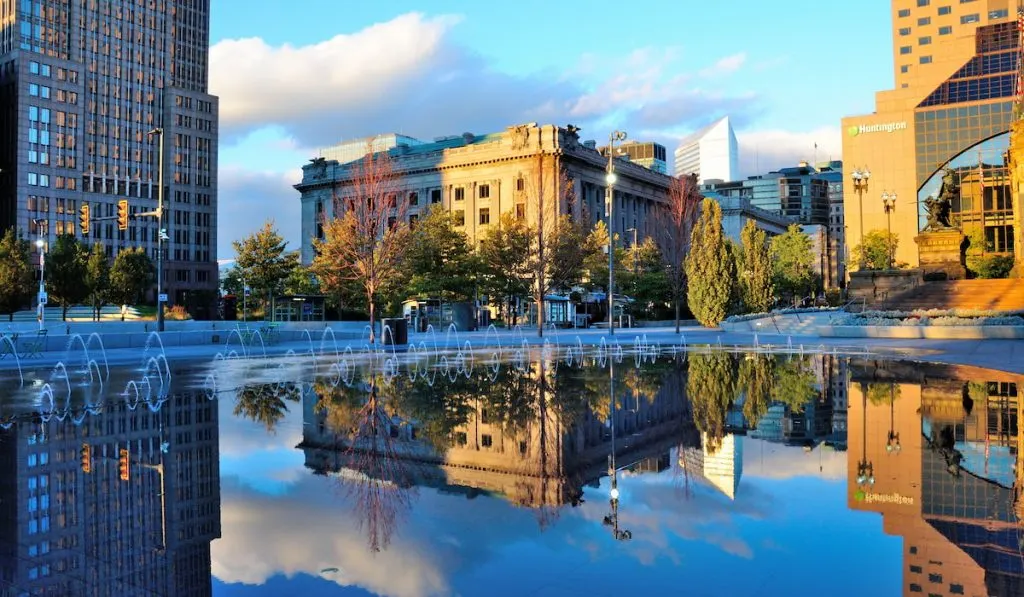 MidTown
MidTown is a historic Cleveland neighborhood that has tons of popular attractions. It's a charming and generally safe place located between University Circle and Downtown.
It's a relatively small and community-minded area where it's easier for you to build and cherish strong neighborhood connections. It's also among the most affordable locations in Cleveland.
This is an up-and-coming area with a lot of planned projects that will transform and improve the community. For instance, one of the newest projects is the MidTown Apartments.
It's an upscale apartment building located right next to Cleveland Clinic, CSU, and RTA Healthline stops.
Because of its location, this neighborhood is especially popular for medical students, CSU grad students, and employees of the Cleveland Clinic.
It's also a place where you can find amazing attractions such as the Children's Museum of Cleveland or the Agora Theater and Ballroom, a well-known music venue.
Detroit Shoreway
Detroit Shoreway is also one of the up-and-coming neighborhoods and another location where you can get to most of the places you might need on foot.
With plenty of restaurants, bars, boutiques, local shops, and other interesting venues, you'll truly never have to worry about finding something fun to do.
If you're looking for a place to get a fantastic bite, you can start exploring Latitude 41, Toast, or Luxe Kitchen and Lounge. On the other hand, Old City Libations, XYZ Tavern, or Happy Dog are places to get great drinks after an exhausting day.
This neighborhood is also home to Sweet Moses. That's a cool, old-school soda fountain with treats such as delicious homemade ice creams.
Along with other locations from our list, Detroit Shoreway is one where you get to enjoy music gigs and concerts too. Those who are into the live theater will simply love Cleveland Public Theater and Near West Theatre.
There's also Superelectric Pinball Parlor for those with more eclectic tastes. Over there, you'll find a variety of pinball and old video games for hours of fun.
As it's becoming a more and more popular place to live, there are numerous new apartment buildings going up all the time. There are a variety of different styles of homes here including condos, high-rises, or houses— whichever suits you best.
Conclusion
Over the past couple of years, both Cleveland and its surrounding neighborhoods have transitioned into a more pedestrian and bicycle-friendly environment.
This makes it easier to get around, but also positively affects the overall sustainability and quality of life there.
So, what are your thoughts on these 9 best walkable neighborhoods in Cleveland? Would you like to add some of your own? We'd love to hear your thoughts in the comments!
Resources