*This post may have affiliate links, which means I may receive commissions if you choose to purchase through links I provide (at no extra cost to you). As an Amazon Associate I earn from qualifying purchases. Please read my privacy policy/disclaimer for additional details..
People drink coffee for various reasons.
Some people drink it to get that boost they need to start their day. Others drink it for the flavor and the taste.
For some other people, their desire for coffee is driven by the benefits it has to their health.
Coffee has a number of health benefits: it helps with short-term memory, promotes metabolism, boosts exercise performance, and does a lot more.
One of the extra positives of drinking coffee is that it may help with weight loss.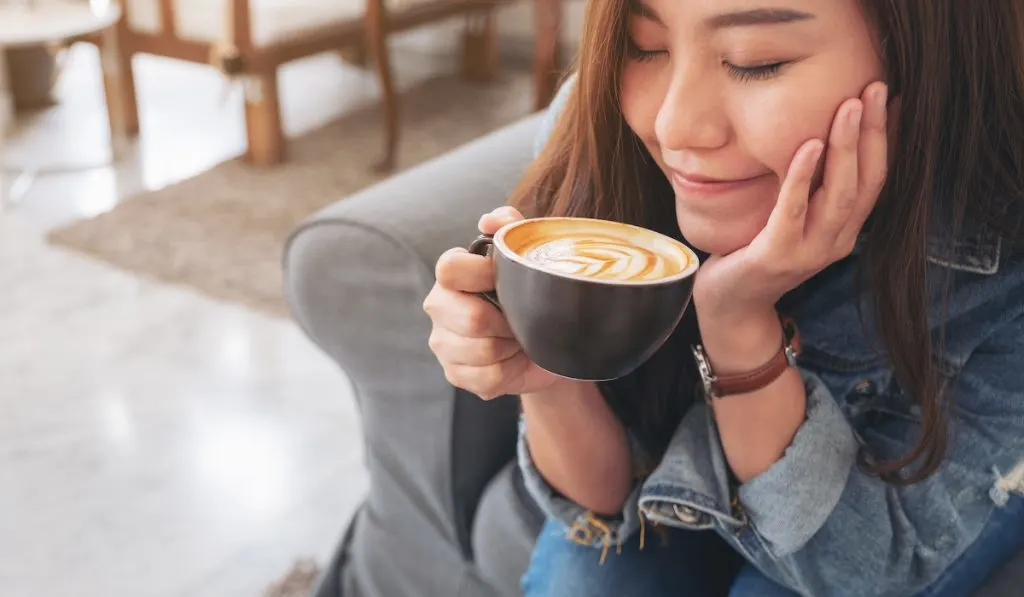 If you are not familiar with the weight-loss quality of coffee, We've got you covered. Let's run through some of the intricacies of weight loss and coffee.
If you need recommendations for products to buy, this article discusses some of the best weight loss coffees for 2021.
What Is Weight Loss Coffee?
The first thing you need to know is weight loss coffee may have originated from the coffee diet.
The Coffee Diet is a dietary plan that was developed by Dr. Bob Arnot.
This diet was promoted by Arnot's book titled The Coffee Lover's Diet.
In this book, Dr. Arnot posited that having coffee a few times within a day can help promote weight loss.
The loss of weight is said to be due to the effects of fat digestion and elevated metabolism.
Dr. Arnot also mentioned that a reduction in appetite and absorption of calories by coffee may promote weight loss.
In line with Dr. Arnot's position, some companies came up with coffee brands tailored for weight loss.
Such coffee products are called weight loss coffee.
Weight Loss Coffees are manufactured to promote weight loss. They are typically free of ingredients that can increase the consumer's calorie intake.
So, they usually contain little or no sugar and cream.
Of course, weight-loss coffees contain coffee – usually the light-roast type.
Some also contain other ingredients that may help with weight loss.
Some common ingredients include green tea, MCT oil, Himalayan salt, and ginseng.
Science Behind Coffee and Weight Loss
So you've probably asked yourself many times, "how does coffee cause weight loss?" Here's the science.
Dr. Arnot recommended drinking at least 720 ml (3 cups) of light-roast coffee in a day.
The choice of light-roast is driven by the fact that it contains relatively more polyphenol antioxidants.
This is logical since polyphenol antioxidants help with weight loss, and they can also help you stay healthy.
The science behind coffee's weight loss quality is a bit multifaceted.
In essence, coffee can help you lose weight through various mechanisms.
Reduction of Appetite
Various studies have been carried out on people to test the appetite suppression and reduced calorie intake caused by coffee.
The said studies did not return uniform results.
While some suggested that coffee might actually suppress appetite, some showed that coffee had no effect on appetite.
In one of these studies, people who drank coffee around 0-4 hours before their meal ate less than if they did not.
In another study of normal-weight and overweight people, coffee intake seemed to reduce calorie intake in overweight subjects.
On the other hand, one study involving three test samples showed no change in calorie intake.
In this study, the subjects were given caffeinated coffee, decaf, and placebo.
It is not known for sure how or why coffee suppresses appetite. But many people have experienced this effect.
Increased Metabolism
Most of the studies on coffee and increased metabolism were carried out around 2 decades ago.
Many of the studies returned similar results; they suggested that coffee increases metabolism.
One of those studies used coffee versus water. The participants who drank coffee were reported to have burnt more fat than their counterparts.
The effect of coffee on metabolism might be dependent on the type of coffee.
It is thought that caffeinated coffee is more effective at stimulating metabolism.
It is also thought that the polyphenol antioxidants may contribute to increased metabolism.
Hence, the suggestion by Dr. Arnot that light-roast coffee is more preferable.
Besides stimulating metabolism, caffeinated coffee may also increase your energy production after your workouts and even when you are at rest.
In producing energy, it is thought coffee stimulates the production of heat, a process called thermogenesis.
Common Ingredients in Weight Loss Coffee
So, when you get a pack of weight loss coffee, what kind of ingredients can you expect in it?
You'll commonly find the following ingredients in weight loss coffee:
Light-Roast Coffee
Ginseng
Yerba Mate
Spirulina
Himalayan Salt
MCT Oil
Glucomannan
Whey
Green Tea Extract
Chlorella
Garcinia Cambogia
Weight Loss Coffee Recipe
If you would rather make your own weight loss coffee instead of buying a finished product, we've got you.
Try out our 2 weight loss coffee recipes at home.
Recipe 1
Ingredients
1 cup of freshly brewed coffee
1 tbsp. almond oil
1 tbsp. coconut oil
1/4 tsp. cinnamon powder
Directions
Transfer all the ingredients to a blender. Blend for about 3-5 minutes or until frothy and smooth.
Serve right away.
Recipe 2
Ingredients
1 cup of freshly brewed coffee
2 tbsp. almond oil
1/2 tbsp. coconut oil
1/4 tsp. ginger powder
Directions
Bring the ingredients together in a blender. Blend for about 3-5 minutes or until smooth.
Serve right away.
3 Best Weight Loss Coffees for 2021
If you would rather get a readymade weight loss coffee, here are some of the best options to go for:
CLICK Protein & Coffee Meal Replacement Drink Mix
CLICK Coffee Protein, Premium Protein & Double Shot Espresso Coffee, All-In-One, Meal Replacement Energy Drink
COFFEE PROTEIN ALL IN ONE: Double-shot espresso coffee, premium protein & 23 essential vitamins, all-in-one delicious coffee-house drink that can be enjoyed hot, iced or blended!
MEAL REPLACEMENT: CLICK Coffee Protein is an all-in-one, low calorie, coffee protein powder drink mix to boost energy, curb appetite, and promote fat burning. Perfect as breakfast meal replacement, mid-day pick-me-up, snack or pre- or post-workout drink.
REAL ESPRESSO COFFEE: CLICK has 150 mg of caffeine from double-shot of espresso coffee, not coffee flavor or synthetic stimulants, along with CLICK's slow-releasing proteins to help suppress appetite while giving you the energy you need to get through your day.
This product is a coffee and protein meal. It is quite suitable as a replacement for your breakfast and your mid-day meal.
Considering it packs just about 120 calories, you can be sure that it truly is low-calorie.
The Click All-in-One Protein & Coffee Meal Replacement Drink Mix comes in a 15.3-ounce pack.
It contains 23 essential vitamins and at least 16 grams of protein.
Are you sensitive to soy and gluten? Don't worry. This product should give you no problem since it doesn't contain those substances.
One interesting feature of this weight loss coffee is that it is made of real espresso.
Besides that, you can get it in three flavors: latte, mocha, and caramel.
The Click All-in-One Protein & Coffee Meal Replacement Drink Mix is easy to prepare.
You may choose to prepare it warm or cold. Whichever you choose, you should be done in a few minutes.
Rapid Fire High-Performance Keto Coffee Pods
Sale
Rapidfire Caramel Macchiato Ketogenic High Performance Keto Coffee Pods
PREMIUM COFFEE. Made with great-tasting Caramel Macchiato Green Mountain Coffee, Grass Fed Butter, MCTs from coconut oil, and a touch of Himalayan salt for a satisfying, nutritious, fat-burning, and low-carb coffee with robust flavor
KETO AND PALEO FRIENDLY. Rich in MCTs and healthy fatty acids to enhance the body's production of ketones to promote increased metabolism, weight loss, and brain function. No gluten, soy or artificial ingredients
DIET AND WEIGHTLOSS MANAGEMENT. Quickly metabolizes to ketone energy, rather than storing as fat, with only 100 calories per serving and helps provide feeling of fullness
This product contains coffee and other weight loss ingredients. These other ingredients are MCT (medium-chain triglycerides), grass-fed butter, and Himalayan salt.
The MCTs are expected to promote weight loss through the production of ketones in the body.
Himalayan salt is also known to contribute to weight loss through various mechanisms.
The ingredients are loaded in coffee pods, and each pod contains just about 100 calories. Just what you want, low calories.
Besides the coffee pod variant, the Rapid Fire Keto Coffee is also available in powder form.
You can get this weight loss coffee in three flavors: original blend, caramel macchiato, and French vanilla.
Once you have a K-Cup coffee maker, preparing this product is easy.
Just follow the directions on the pack, and you are good.
RSP TRUEFIT Cold Brew – Coffee Protein Powder Meal Replacement Shake
RSP TrueFit Cold Brew Coffee Protein Powder Meal Replacement Shake, High Protein Coffee with Natural Caffeine, Grass Fed Whey,
Protein Plus Energy – Supercharge your protein with RSP TrueFit Cold Brew Coffee as each serving is crafted with natural caffeine from coffee beans that is comparable to a cup of the leading premium coffee.
Lean Protein Meal Replacement – TrueFit is a lean meal replacement shake with whole food ingredients. TrueFit contains 20g of grass-fed whey protein, 100mg of natural caffeine, a superfood blend of 12 organic & Non-GMO fruits and vegetables, 8 grams of prebiotic fiber and 1 billion CFU probiotics to fulfill your complete nutrition needs.
Premium Grass Fed Whey – The whey protein in RSP TrueFit is sourced from farms in the USA and is derived from pasture raised cows that are never treated with rBST, rBGH or other growth hormones.
This product is a combination of about six types of ingredients. They are coffee beans, vegetables, fruits, prebiotic fiber, probiotics, and grass-fed protein.
Each serving contains about 140 calories, and that should be low-calorie enough.
The RSP TRUEFIT Cold Brew – Coffee Protein Powder Meal Replacement Shake contains enough nutrients to replace usual meals.
Each pack contains 20 servings, and they are all cold brew. So, you don't have to bother about boiling water to prepare this.
The product is soy-free and gluten-free. It comes in four flavors: coffee, chocolate, cinnamon churro, and vanilla.
Final Thoughts
While consuming weight loss coffee, you should note that consistency and your general eating habits are essential for effectiveness.
Also, it is advised that you should not consume more than 400 mg of caffeine per day. So, take note of your caffeine intake.
Most importantly, if you have an underlying condition, speak with your doctor or pharmacist before consuming these products.
Resources