*This post may have affiliate links, which means I may receive commissions if you choose to purchase through links I provide (at no extra cost to you). As an Amazon Associate I earn from qualifying purchases. Please read my privacy policy/disclaimer for additional details..
More times than not, the terms coffee cup and coffee mug are used as synonyms. But are they actually the same? Well, the answer is no.
So, what is the difference between coffee cups and coffee mugs? Well, the main differences are their structures and the type of drinks they are conventionally used for.
Generally, coffee mugs have a larger capacity than coffee cups. Their shape differs, and even their handles also differ.
The article does not end here! In the rest of this post, we will expand on the differences between coffee cups and mugs.
Differences Between Coffee Cups and Mugs
As we mentioned already, the structures of coffee mugs and coffee cups differ. Below, we explain how they do: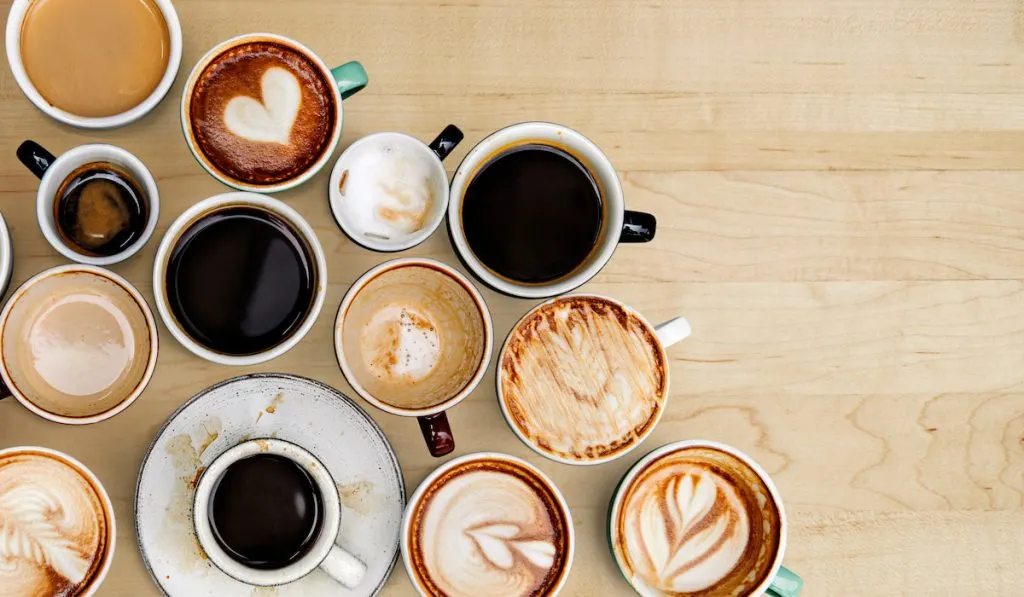 Shape
The bases of coffee cups are typically smaller than the brim. But the base of a coffee mug is usually the same size as the brim.
Sometimes, some coffee mugs may have bases that are smaller than their brims. However, the difference is usually not more than an inch.
Coffee mugs with bases smaller than brims usually have arched or short-sloped sides. But those with equal brims and bases are usually straight-sided.
Additionally, some coffee cups come with a saucer. But coffee mugs are usually on their own.
Handle
With the new types of coffee mug and cup designs we get these days, the handles are not reliable features to use for differentiation.
Nonetheless, between the two, coffee mugs usually always come with a handle. Contrarily, some varieties of coffee cups have no handle.
Also, the handles on coffee mugs are usually wider than those on coffee cups. A coffee mug handle should be able to fit 2-3 fingers. But coffee cups cannot.
Thickness
Coffee mugs are almost always thicker than coffee cups. Perhaps this contributes to their ability to keep coffee warmer for longer.
Holding Capacity
Coffee mugs generally hold more liquid than coffee cups. On average, a coffee mug in the US will hold around 8 to 12 ounces of liquid.
Cups, on the other hand, hold around 6 ounces of liquid, on average. Although some of the varieties used for to-go coffee can hold as much as the average coffee mug.
Some extra-large mugs can even contain up to 20 to 25 ounces of liquid. The relatively larger capacity of mugs makes them less suitable for small meals.
Conventional coffee cups, on the other hand, are great for small meals.
Portability
Some coffee cup varieties are portable. These types are made from disposable materials and used for to-go coffee. On the contrary, coffee mugs are almost always used in place.
Type of Drink They Are Conventionally Used For
You will find that by convention, some types of coffee are served in either mugs or cups. The truth is, you can use either a cup or a mug for any type of coffee. There is no rule, just custom or preference.
Generally, espresso-based drinks are served in mugs. This is understandable because such drinks require many ingredients, and mugs can contain them.
Coffee cups, on the other hand, are typically used for macchiatos and cappuccinos. They may also be used for tea and Con Panna.
Material Used in Making Them
Both coffee mugs and coffee cups may be made from ceramic. But some coffee cups, like the to-go coffee cups, are made from disposable materials like paper.
In rare cases, you may also find coffee mugs made from other materials like stainless steel.
Durability
Coffee cups made from ceramic are more likely to break than coffee mugs made from ceramic. Naturally, this holds because mugs are thicker than cups.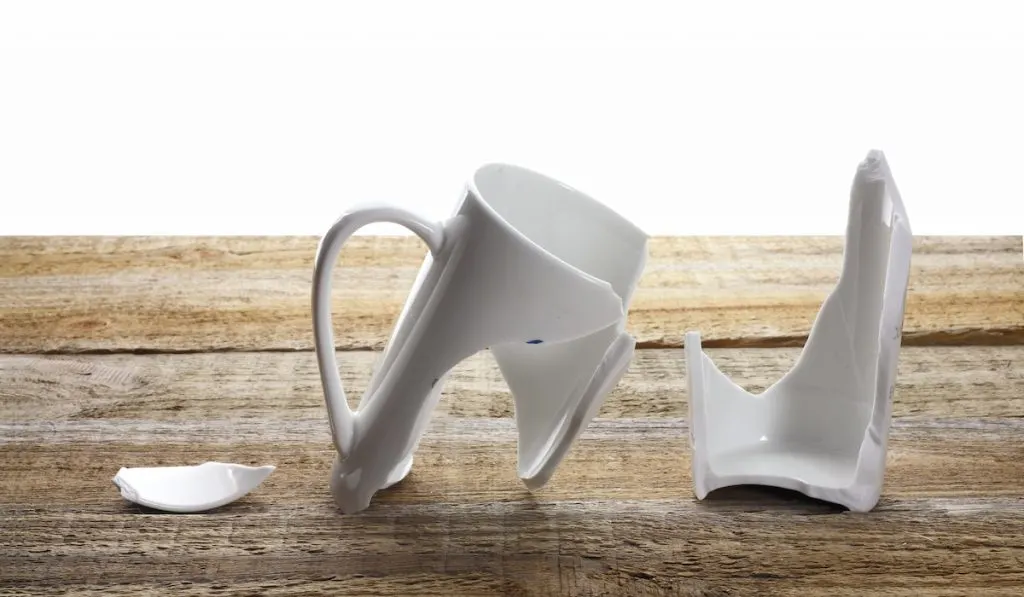 Heat Conservation
Coffee mugs keep coffee warm for longer. With their thickness and reduced surface area, heat loss is slower.
So with cups, coffee may get cold faster. The thinness and wide brim of coffee cups contribute to the quickness with which its content gets cold.
| | | |
| --- | --- | --- |
| | Coffee Mug | Coffee Cup |
| Shape | Coffee mugs are shaped like cylinders. They typically have straight sides with their brims and bases having equal diameters. In some cases, the base might be smaller than the brim. But the difference is rarely over 1 inch. | Coffee cups are typically shaped like conical frustums. Their bases are usually smaller than the brim. |
| Handle | Coffee mugs come with larger handles. | Coffee cups come with small handles or no handles. |
| Thickness | Coffee mugs are thicker. | Coffee cups are thinner. |
| Holding Capacity | Generally, coffee mugs hold more liquid. | Coffee cups do not usually hold as much liquid as coffee mugs. |
| Portability | Coffee mugs are usually not portable. | Varieties of coffee cups made from disposable material are portable. They are used for to-go coffee. |
| Drink Types | By convention, coffee mugs are used for espresso-based drinks. | Coffee cups are typically used for cappuccinos, macchiatos, tea, and Con Panna. |
| Material | Coffee mugs are usually made from ceramic. But they may also be made of other materials like stainless steel and glass. | Coffee cups are made from ceramic too. But some varieties are made from disposable material like paper. |
| Durability | Coffee mugs are more resistant to breaking. | Coffee cups break easily. |
| Heat Conservation | Coffee mugs can keep liquids warm for longer. | Liquids get cold faster in coffee cups. |
Our Favorite Coffee Mugs and Cups
Away from comparing coffee mugs and coffee cups, here is a list of some of our favorite products for each type of container.
Our 3 Favorite Coffee Cups
BTaT- Tea Cups and Saucers
Sale
This cup is perfect for not just tea but cappuccino, latte, and even macchiato. It is sold as a set of 6, and each cup comes with a saucer.
This white cup is ribbed and lined with gold – a classic design, all in all. It can hold up to 7 ounces of fluid.
Amazingware Royal Tea Cups and Saucers
Amazingware Royal Tea Cups and Saucers
ELEGANT AND CHIC DESIGN- Do you want to enjoy an elegant afternoon tea time with your friends? This cup of sauce can take a distinguished experience like this. The edge of the cup is embellished with gold thread, which is more elegant and noble.
SUFFICIENT CAPACITY- Set of six 8-ounce teacups and 6 saucers are enough to let you and your family and friends enjoy a pleasant afternoon tea time. These cups are in the right size and thickness to keep the coffee warm.
HIGH QUALITY PORCELAIN- These cups and saucer sets are made of fine porcelains, safe food, durable, and suitable for everyday use. Ceramics have the safety of microwave ovens and dishwashers.
When you get this product, you get 6 cups and 6 saucers. The cups have a capacity of up to 8 ounces and are made of high-quality porcelain.
This cup comes in 3 colors: dark green, watermelon red, and white. Each one of these color varieties is ribbed and lined with gold. The product finds application at various occasions, including tea parties, weddings, and even gatherings.
Hefty Disposable Hot Cups with Lids
Sale
Hefty Paper Disposable Hot Cups with Lids
PAPER COFFEE CUPS WITH LIDS: This package contains 20 Hefty hot cups 16-ounce paper coffee cups, measuring 5.4 inches tall x 3.5 inches in diameter, with lids included
NO NEED FOR A SLEEVE: Featuring an extra-strong, double wall insulation, these paper cups keep the heat in your beverage & away from your hands
PERFECT WHEN YOU'RE ON-THE-MOVE: Tight-fitting, leak-resistant lids eliminate worries about sloshing & spills
MADE WITH 40% RECYCLED MATERIAL: These coffee cups with lids are an eco-friendly way to sip your favorite beverage
This product is a disposable coffee cup. It is pretty lightweight – weighing just 1 pound, and it can hold 16 ounces of fluid.
A pack of this product comes with 20 cups and 20 lids. The lids fit tightly, so if you want to move around with your coffee, you can do so without worries.
Also, you do not have to bother too much about disposing of these cups. They are eco-friendly and can be recycled.
Our 3 Favorite Coffee Mugs
YETI Rambler 14 oz Mug
YETI Rambler 14 oz Stainless Steel Vacuum Insulated Mug with Lid
Unlike traditional camp mugs, this double-wall vacuum-insulated body protects hands from hot or cold contents while keeping coffee, chili, oatmeal – you name it – well-insulated
The mug's wide opening means contents are easily accessible, but will cool quicker. That's why the mug comes with the standard Rambler 30 oz. Lid
The full-loop Triple Grip Handle is comfortable for wider hands, so you can fit your mitts fully around your morning joe
YETI mugs are BPA-free, dishwasher safe, and have a No Sweat Design to make sure your hands stay dry. The tough Duracoat coating on the colored mugs won't crack, peel or fade
This mug is unlike the usual ones. For one, it has extra layers of insulation and a lid to keep its contents warm for longer. It also comes with a handle tailored to fit some pretty wide hands.
The YETI Rambler mug is made of stainless steel, has a 14-ounce capacity, is available in 19 colors, and is dishwasher safe.
Lifecapido Set of 6 Coffee Mug Sets
Sale
Set of 6 Coffee Mug Sets, 16 Ounce Ceramic Coffee Mugs Restaurant Coffee Mug, Large-sized Black Coffee Mugs Set Perfect for Coffee
SIMPLE DESIGN FOR DAILY USING: If you're looking for a good basic cup like the kind you'd get in a nice cafe, have a try ours! The 16 oz black mug set with simple style design offers a minimalist look and the sheen on the matte black outside, fit for daily hot coffee tea or water with family or friends, also suitable for restaurant or bar.
SUITABLE SIZE FOR USING: The black coffee mug set hold 15 oz. The large size is suitablefor a big cup of morning coffee, tea, cereal or milk. The handle is comfortable for holding, your thumb is secure on the edges and will not be going to slip out of your hand.
SAFE FOR DISHWASHER MICROWAVE: The black mug set of 6 are made of durable porcelain, LEAD-FREE and NON-TOXIC, chip-resistant and sturdy for long use. Safe enough for dishwasher, microwave, oven and freezer.
This pack contains six 16-ounce coffee mugs with a simple design. Each one of the mugs has a colorful inside and a dark outside, giving them an attractive yet simple look.
The mugs are made from lead-free porcelain, they are comfortable to handle, and they are suitable for hot and cold coffee. You can use them in the dishwasher, microwave, freezer, and even oven.
Joyjolt Declan Coffee Mug
JoyJolt Declan Coffee Mug. Glass Coffee Mugs Set of 6. Clear Glass Coffee Cups 16 Oz with Handles for Hot Beverages
16 OUNCE OF PURE JOY: As you sip your morning brew, or evening cuppa it's only natural to feel a little instant joy as your hot drink passes your lips. But the Declan Glass Cup with its comfy handle, satisfying rim, and shatter-proof, lead-free glass means the more you sip, the more you sink into pure joy.
EASY GRIP HANDLE: If you prefer to wrap 2-3 fingers around your coffee cup handle instead of barely even one, the Declan 6 Piece Coffee Mug Set with its 2 x 1 inch gap was made for you. And you'll also like that you can grab the handle straight from the microwave without touching the hot glass sides.
This mug is made from transparent glass, which gives you a crystal-clear view of your dark coffee as you drink it. You could say the transparency gives it a unique aesthetic.
With this mug, you can enjoy up to 16 ounces of coffee. The handle offers comfort and can take up to 2-3 fingers for easy grip. It also comes with a base rim that reduces the chances of tipping, falling, and shattering.
You can wash this in a dishwasher if you do not want to wash it by hand.
Resources