*This post may have affiliate links, which means I may receive commissions if you choose to purchase through links I provide (at no extra cost to you). As an Amazon Associate I earn from qualifying purchases. Please read my privacy policy/disclaimer for additional details..
If you've recently been a fan of single-serve coffees, then you might be confused on the various types available on the market. Perhaps you are here because you want to know more about coffee pods and K-Cups. If you think that the coffee pod and K-Cup are the same, sorry to break it to you, but they are two different things.
Coffee pods won't work in K-Cup machines, and the same goes for K-Cups. While you can buy an adapter or coffee machine that can brew both, it is still best if you know the differences between these two single-serve coffee types.
For this article, we're going to talk about what coffee pods and K-Cups are, what their differences are, their pros and cons, and which one is best for you. Without further ado, let's begin!
What is a Coffee Pod?
A coffee pod is a pre-packaged ground coffee that is sealed inside a filter paper that is similar to tea bags. It is a round, flat pouch that is most commonly bendable. Sometimes, they are sold individually wrapped in the market, or sold together in a larger pack.
Coffee pods come in various flavors, roasts, and brands, but they can only be brewed using a pod brewer. That said, coffee pods can not be brewed with K-Cup machines.
Coffee pods were made in order to satisfy customer desires for single-serving coffee that is easy to brew.
Before, several coffee brands created different coffee pods and brewing machines. This caused confusion, which resulted in the standardization of coffee pods at 2.4 inches (61 mm) in diameter, each containing about .25-.42 oz (7 to 12 grams) of ground coffee.
Advantages of Coffee Pods
Coffee pods have a stronger aroma because the coffee is not sealed
It has better coffee extraction since there is a wider area for the water to infiltrate the coffee.
Because of the simple paper packaging, waste and trash are reduced.
Disadvantages of Coffee Pods
Compared to other single-serving coffee, the coffee pod has fewer choices for pod brewing equipment
It also has fewer options available when it comes to flavors, blends, and roasts
Finding it at your local market can be a challenge, though it is easily available online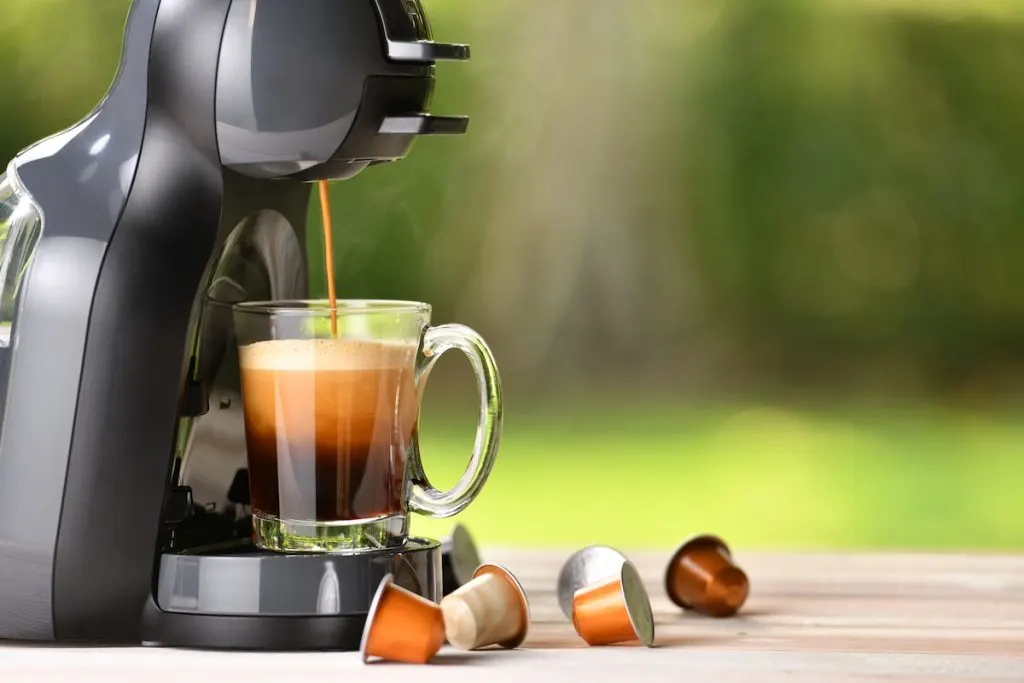 What is a K-Cup?
A K-Cup can be coffee, tea, hot chocolate, or cappuccino that is secured in a small plastic cup. It has a plastic ring that is sealed with a foil top.
Inside is a filtering material which keeps the coffee grounds contained during the brewing process. Like the coffee pod, K-Cups can only be used in a K-Cup machine.
Before brewing, two needles puncture both the lid and the bottom of the capsule. The process of brewing is as follows: water flows into the capsule from the top, brews the coffee, and then the coffee drains out of the bottom of the K-Cup.
Today, some designs of K-cup replace the plastic with other more eco-friendly materials, though the plastic ring with foil lid still remains.
Advantages of K-Cups
K-Cups have a wide variety of coffee flavors and blends to choose from.
Though K-Cups used to be expensive, they now produce K-Cups that are lower in price.
The quality of coffee produced is acceptable for most coffee enthusiasts.
They are easy and more convenient to use, thus making them ideal for many people.
Disadvantages of K-cups
Though there are lower-priced K-Cups available in the market, they are still higher in price compared to coffee pods
The flavor of different brands varies highly. In fact, some are described as not as flavorful as the others, so you might need to find the perfect K-Cup for you
If you love the environment, then it would not be wise to use K-Cups. After all, they are made with plastic cups with foil lids. Compared to the simple paper packaging of coffee pods, K-Cups produce more waste, thus making them less eco-friendly.
What are the similarities between coffee pods and K-Cups?
The coffee pod and the K-Cup were both created for the same purpose: to provide a simpler and more convenient way of producing single-serving coffee. That's pretty much their similarities, so we'll go ahead and talk about what sets them apart.
What are the differences between coffee pods and K-Cups?
While they may look similar at a glance, there are various differences between the two that you may only know of through this article. Let's go through them one by one.
Packaging
You may notice that the K-Cup is sealed inside a cartridge that is usually a plastic cup. On the other hand, coffee pods are packed using filter paper. Basically, it's a teabag, except the coffee grounds are inside.
Availability
In North America, the use of K-Cups is interestingly becoming more popular than coffee pods, though the latter was introduced earlier than K-Cups. Aside from Keurig, there are also other brands that produce K-Cup compatible brewers, therefore the availability of K-Cups is higher than coffee pods.
Variation
There are wider selections of K-Cups available in the market, including different blends, flavors, and roasts. Compared to coffee pods, they are easier to find in stores, though coffee pods are easily available in the online market.
Price
In general, coffee pods are cheaper than K-Cups, although both single-serving coffee types are usually more expensive than the usual ground coffee beans.
Ease of Use
The brewing machine will play a huge role in the usage of both single-serving coffee types, though we can all agree that both the coffee pod and the K-Cup are amazingly easy to use.
However, K-Cups are said to be easier to clean compared to coffee pods because you'll just simply need to take them out of the machine after using them.
Quality of coffee
While preferences for the taste of coffee vary per individual, most coffee enthusiasts would agree that coffee pods make better coffee quality. It is mainly due to the fact that the paper filter used in the filtration of coffee pods has better extraction than those used in K-Cups.
Sustainability
When it comes to being environmentally friendly, coffee pods are way, way ahead compared to K-Cups since the papers used are compostable. Meanwhile, the plastic used in K-Cups can add up to increasing problems when it comes to the protection and conservation of our environment.
Which is better?
Now that we've tackled the differences between the K-Cup and the coffee pod, we are now down to the last question: which is better between the two?
The answer will depend on you. For some, K-Cups suit their lifestyle, while for others, coffee pods are better.
To know which one is best for you, it is recommended to try both if you can. That way, you'll get to experience using them, which will help you decide which one best fits your needs.
However, knowing their differences, as well as their advantages and disadvantages will give you an idea which one you think will satisfy your preferences.
And that wraps up our article for today! I hope that by now, you get a clearer idea about the differences between K-Cups and coffee pods, and that you have already decided which one to try.
As always, if you find this article helpful, feel free to share it with your family and friends, especially to the coffee lovers and enthusiasts!
Resources