*This post may have affiliate links, which means I may receive commissions if you choose to purchase through links I provide (at no extra cost to you). As an Amazon Associate I earn from qualifying purchases. Please read my privacy policy/disclaimer for additional details..
We all want that smooth texture to invigorate us when we take our coffees in the morning.
One of the most essential factors that affect the quality of your coffee is milk. Be it a cappuccino, latte, or any other, having good milk content helps you enjoy your coffee better.
If you like to make your beverage at home, you should learn about frothing your milk.
Almond milk is fast becoming popular as a non-dairy choice in coffees. If you use almond milk for your drink, you are in the right place.
In this article, we are discussing steps to froth your almond milk at home. We also cover your options in getting your almond milk frothed. So let's get started.
How to Froth Almond Milk
Frothing milk is one of the most important processes when it comes to producing excellent latte art.
If done correctly, this process results in a beautifully thickened foam that can hold the design and result in the desired outcome.
Almond milk is made from almonds and water. Despite being devoid of lactose and gluten, it produces a unique and creamy taste after frothing.
The process of frothing almond milk to perfection depends on these factors:
The quality or freshness of the milk
The nutritional contents of the milk (fats and proteins)
The temperature of the milk.
The thickened outcome produced while frothing depends on the protein contents of the milk. Since almond milk is non-diary, it has lower amounts of proteins.
The lower proteins cause the foam to dissipate within a short period. On the other hand, almond milk's higher fat content results in better chances of producing good milk foam.
However, when the fat becomes excessive, the chances of frothing may reduce.
If your almond milk is homemade, use more almonds to ensure that the milk has more protein and fats and less water.
Equally, the types of almonds used influences the taste, texture, and quality of the froth produced with the milk.
Furthermore, temperature is of high importance. While frothing, keep almond milk at room temperature and never too hot.
Having taken all these into considerations when getting your almond milk, the next thing is to froth the milk.
There are several ways to froth almond milk, depending on the appliance you employ for this purpose. They are as follows:
Steam Wand
Steam wands are attachments to coffee makers that are used to make froths. To do this:
Step 1: Dip the steam wand into your milk.
Step 2: Leave till microbubbles start showing on the surface of the pitcher.
Step 3: Check if the milk has doubled in the process.
Step 4: Stop the steam wand, pour out your milk into your espresso, and you are done.
Compact Wand Frother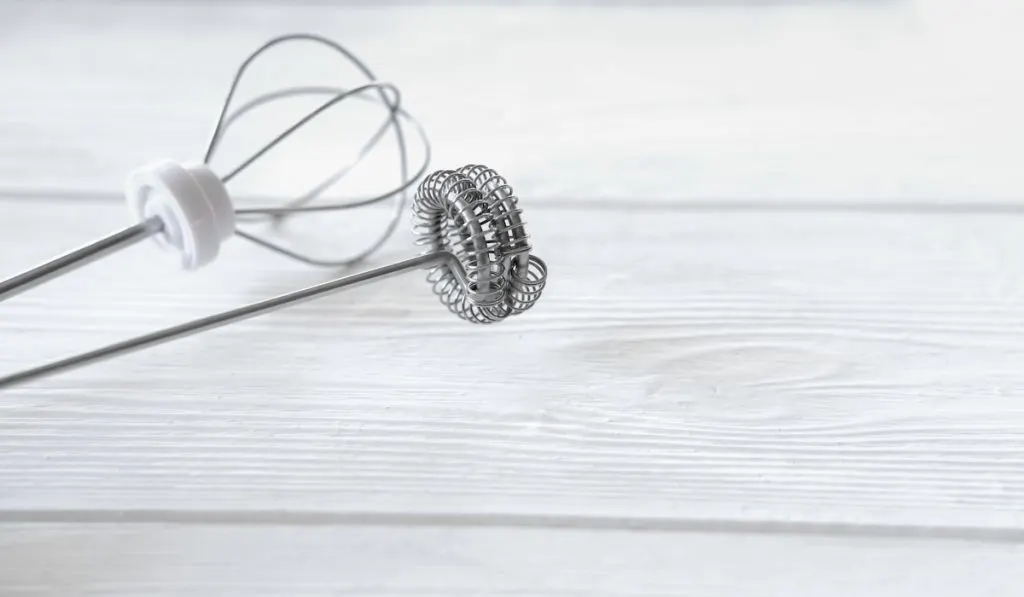 These are small, hand-held wands that can be used to make excellent froths. To do this:
Step 1: Pour your milk into a saucepan.
Step 2: Place the saucepan of a stove and allow it to heat.
Step 3: Put the compact wand on the surface of the saucepan for 30 seconds.
Step 4: The heated milk will become foamy, and once that happens, it's been frothed. Pour out and use as intended.
Shaking
To do this:
Step 1: Pour the warmed milk into a well-covered, air-tight glass jar. Be sure to not hold the jar with your bare hands to avoid burning.
Step 2: Shake your milk aggressively for about a minute or two until it doubles in volume.
Step 3: Remove the lid of the jar and set it down on the counter.
Step 4: Leave for 30 seconds to allow the bubbles to settle and produce a nice foamy froth.
Electric Mixer
You may use this to froth almond milk by taking the following steps:
Step 1: Pour the milk into a saucepan and heat it.
Step 2: Use the hand mixer to whisk until it froths to your satisfaction. If not a hand mixer, pour into the stand mixer and allow to froth.
Step 3: Pour the froth out and use it as intended.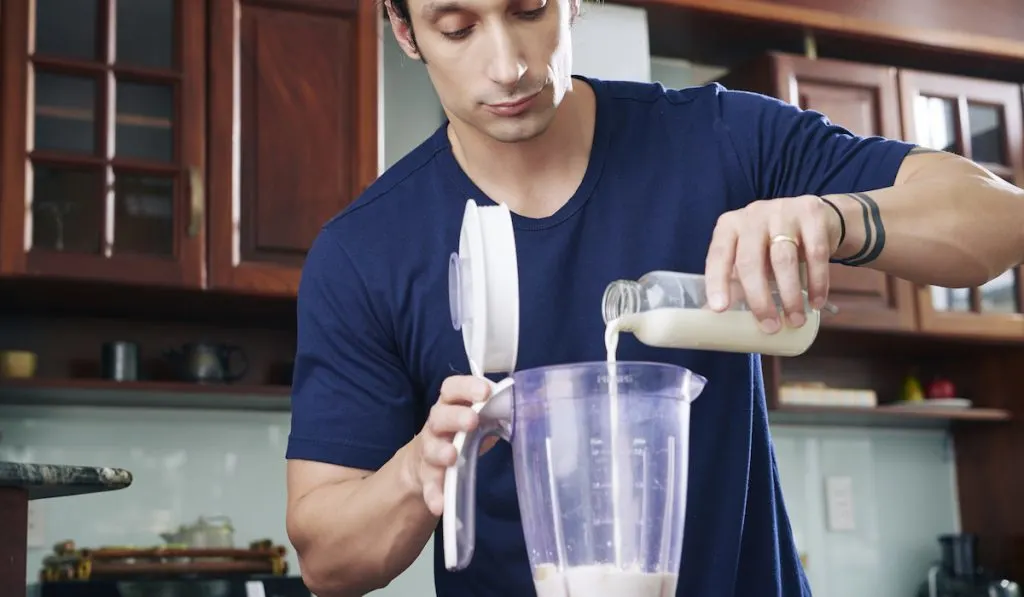 Blender/Immersion Blender
Step 1: Heat the almond milk.
Step 2: Pour into the blender and blend at a moderate rate to allow to froth. If using an immersion blender, dip the blender into the bowl of warm milk and blend.
Step 3: Pour out and use as intended.
Which Brands of Almond Milk Froth the Best?
Globally, several brands of almond milk are available for frothing. However, some brands have distinguished themselves to be amongst the best, producing nice and foamy froths. They are:
Califia Farms Original Almond Milk
Wholefoods 365 Unsweetened Almond Milk
Silk Unsweetened Vanilla Almond Milk
Pacific Food Organic Unsweetened Almond Milk
Almond Breeze Almond Coconut Milk
Which Almond Milk Does Starbucks Use?
When announcing that they were rolling out almond milk in their stores, Starbucks disclosed that they developed their own almond milk recipe. It was designed to produce a generous amount of foam when steamed for hot drinks. It is also creamy and delicious when used in cold beverages.
Starbucks provided a list of ingredients, which has the closest similarity to Silk Unsweetened almond milk. With this, you have an idea of what to mimic Starbucks style.
Tips for Making Your Almond Milk Froth Better
We are all about you getting the best from your almond milk. So it is no surprise you are looking for ways to get better froth from your milk.
These tips have been tested and found to be effective. So you might find them useful.
Use Fresh Milk
The longer your almond milk has stayed in your fridge, the less likely you will get acceptable foam from it. This bit of information is only natural. You will generally best enjoy your milk (any type of milk for that matter) when it is still new.
The same principle applies to frothing. So if you are passionate about getting the most froth from your almond milk, best you use one that is as fresh as you can get.
Check the Protein Content
Milk comprises three main macronutrients: proteins, fat, and carbs, in varying degrees. Your almond milk contains similar substances.
The protein component is almost solely responsible for the frothing of your milk. Essentially, the more proteins present in the milk, the better the quality of the foam you get.
Milk generally differs in protein content, and almond milk is no exception. So for the best results, make sure to check the contents of each milk brand. You should then select the one with the highest protein content you can find.
Another option you have is to make your almond milk at home. It is incredibly simple to do, more so than you might have imagined. Also, you can customize it to have higher protein content. for better froth.
Can You Froth Almond Milk Without a Frother?
The answer to this is yes. There are many other options besides the regular old milk frother that will produce a nice foam for you.
Other options open to you include whisking, shaking in a jar, using a frothing wand, employing a blender (regular, hand, or immersion), and using a pump frother.
3 Best Almond Milk Frothers
You can get frothers for your almond milk in many stores. But how do you decide which to get? Well, we can help with that. Check out our recommendation for some of the best almond milk frothers.
Final Take
Frothing almond milk at home is not really a complicated process. With a frother, the process is easier and automated. In the absence of a frother, you could use other appliances like a blender and a wand frother. Alternatively, you could froth almond milk manually by shaking it in a jar with your hands.
Resources