*This post may have affiliate links, which means I may receive commissions if you choose to purchase through links I provide (at no extra cost to you). As an Amazon Associate I earn from qualifying purchases. Please read my privacy policy/disclaimer for additional details..
Instant coffee is a great way to start your day for that fast, hassle-free caffeine fix in the morning.
Instant coffee, also known as soluble coffee or coffee powder, is made from coffee beans by roasting and grinding the coffee bean and extracting its flavor.
If you want an easy, fast and less expensive option than brewed coffee or espresso, instant coffee is your choice.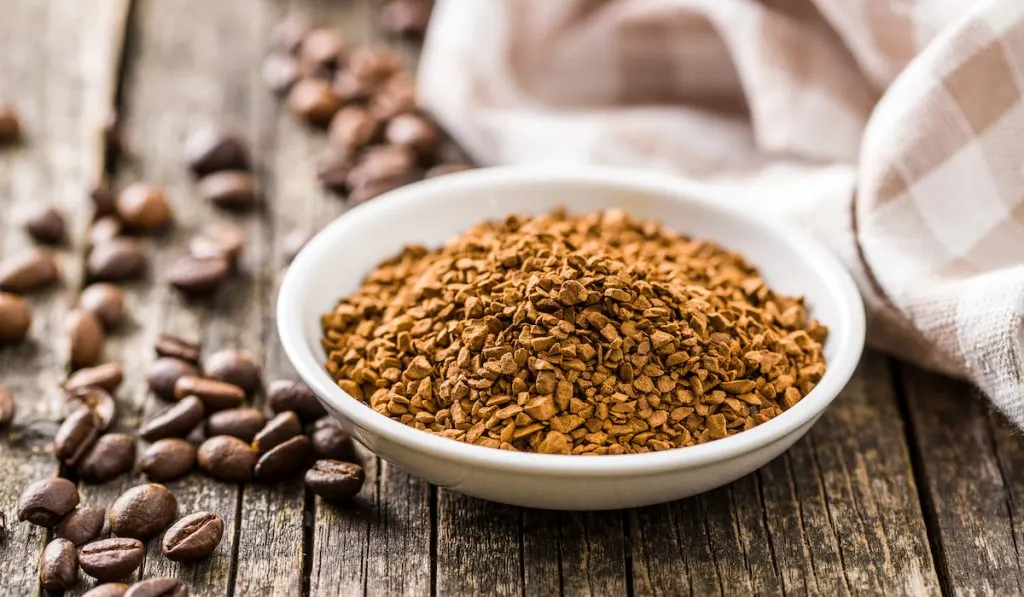 Instant coffee tends to have a lesser caffeine content per serving than brewed coffee due to the brewing method, with only a few brand exceptions.
Instant Coffee Brands With the Most Caffeine
If you want a coffee and you do not have the time to brew it yourself, but want at least the same amount of caffeine content there is in brewed coffee or espresso, strong instant coffees is the best way to go.
Fortunately, there are a lot of brands out there that have a high caffeine content on their instant coffee.
If you're looking for a stronger cup of coffee, here are instant coffee brands that have high caffeine amounts to give you that quick caffeine boost.
| | |
| --- | --- |
| Instant Coffee Brand | Caffeine Amount per 8 fl. oz. |
| Death Wish Instant Coffee | 485 mg. |
| Starbucks VIA Instant Coffee | 135 mg. |
| Alpine Start Instant Coffee | 120 mg. |
| Jiva Instant Coffee | 120 mg. |
| Taster's Choice Instant Coffee | 98 mg. |
| Folgers Classic Roast Instant Coffee | 74 mg. |
| Waka Instant Coffee | 70 mg. |
1. Death Wish Instant Coffee
This is said to be one of the world's strongest coffees at around 485 mg caffeine content per 8 fl. oz of coffee.
Death Wish instant coffee is made from Robusta coffee beans which are stronger than Arabica beans.
With its really high caffeine content, this is for those who have a high tolerance and can handle high amounts of caffeine.
It is not recommended for anyone who is not used to consuming large amounts of caffeine.
2. Starbucks Via
Starbucks VIA Instant Coffee—Medium Roast Coffee
Starbucks VIA INSTANT COFFEE PACKETS—Starbucks delivers exceptional coffee cup after cup with single serve instant coffee packets of Starbucks VIA Instant Pike Place Roast medium roast coffee—50-count box
PIKE PLACE ROAST—A smooth, well-rounded blend of Latin American coffees with subtly rich notes of chocolate and toasted nut, it's perfect for every day
FRESH TASTE—Starbucks adheres to the highest quality standards—freshly shipping you the same carefully roasted 100% arabica coffee beans we brew in our cafés
To boost the coffee's flavor and caffeine, Starbucks Via uses micro-ground coffee instead of freeze-dried coffee.
This is Starbucks' version of instant coffee and is made from 100% micro-ground Arabica coffee.
Starbucks Via is a smooth and balanced coffee that has a strong and distinct nutty flavor.
Starbucks Via has a lot of variations like the Iced Via that has more caffeine content.
It has 2 servings per sachet giving the caffeine content of the Iced Via at around 260 to 280 mg per sachet.
3. Alpine Start Instant Coffee
Sale
Alpine Start Premium Instant Coffee, Medium Roast Original Blend Arabica Coffee
ORIGINAL BLEND MEDIUM ROAST COFFEE – Our delicious instant coffee is made with 100% Colombian Arabica coffee. Drink black or partner with your favorite creamer and enjoy our medium roast coffee anytime, anywhere.
FULL-BODIED MEDIUM ROAST ARABICA COFFEE – Our instant coffee comes in single packets that are lightweight, portable, and convenient for any adventure you may have today.
MEDIUM ROAST COFFEE ANY TIME OF DAY – Our arabica coffee can be served hot or cold. Dissolve in 8 ounces of water, add milk or your favorite non-dairy replacement and enjoy a delicious medium roast coffee.
Alpine Start has a higher caffeine level than most instant coffee brands and they use 100% Arabica beans from Colombia.
Alpine Start has 3 different flavors; all of which has 120 mg caffeine content.
The original blend is made from medium roasted Arabica beans which have a full and smooth flavor.
Their other flavor which is the Coconut Creamer Latte is their original blend but with added coconut based creamer for those people who love their coffee white.
Dirty Chai Latte has a nice blend of chai tea spices, their original blend and instant coffee.
Alpine Start instant coffee can be dissolved in both hot and cold water.
4. Jiva Instant Coffee
Jiva instant coffee is freeze-dried coffee with a high caffeine content of 120mg per 8 fl oz serving.
It comes in various flavors and also contains expertly sourced Arabica beans from Colombia.
It is medium roast and has fragrant chocolate and fruity tones.
5. Taster's Choice Instant Coffee
Nescafe Instant Coffee Packets, Taster's Choice Light Roast
NESCAFE Taster's Choice House Blend Coffee Stick Packs are a smooth and mild roasted coffee made from 100% pure, responsibly sourced coffee beans
Master Coffee Crafters roast and brew our special blend of premium quality coffee beans. They then flash freeze the coffee to lock in the signature smooth and well-balanced flavor.
Easily prepare fresh-tasting, consistent coffee without the hassle of roasting and grinding
Make a quick, fresh-tasting cup of single serve coffee
We believe the choices we make matter. That's why we use responsibly sourced beans from the finest coffee growing regions around the world.
Taster's Choice is a popular brand of instant coffee from Nescafe that comes in three varieties. House Blend (light to medium roast), French Roast (medium to dark roast), and decaf.
Taster's Choice instant coffee has 100% premium sourced beans that have been flash-frozen to preserve all of the flavors of a freshly brewed cup of coffee giving it a well-balanced flavor.
6. Folgers Classic Roast Instant Coffee
Folgers Classic Roast Instant Coffee Crystals
Contains one (1) 3-ounce jar of Folgers instant coffee
The classic Folgers taste you love in instant coffee form
Just add water or milk and stir
Enjoy hot or iced
Proudly roasted in New Orleans
Also a popular brand of instant coffee, Folgers Classic Roast is freeze-dried medium roast coffee that has a rich and strong flavor with subtle bitter undertones.
7. Waka Instant Coffee
Waka — Medium Roast Instant Coffee — Colombian 100% Arabica Freeze Dried Beans
QUALITY INSTANT COFFEE: medium roast premium instant coffee, made with 100% Arabica coffee beans from Colombia. Everyday price: $0.74 per serving.
ADVANCED TECHNOLOGY: quality coffee beans without additives that were perfectly freeze dried to preserve the aroma and flavor.
DELICIOUS FLAVOR: well balanced, smooth bodied with notes of citrus. Enjoy at home, office or on-the-go.
Made from 100% Arabica coffee beans from Columbia, Waka instant coffee is designed to taste like brewed coffee and is made from freeze-drying the beans to capture the flavor of the coffee.
They also offer a light roast instant coffee made from Arabica beans sourced from India.
Why Different Brands of Coffee Have Different Caffeine Levels
The caffeine content of coffee varies due to many factors.
There are a lot of ways to make coffee and each has their own unique flavor and caffeine content.
Different coffee beans have different caffeine content and each brand sources their coffee beans differently.
That's why the caffeine amounts per brand varies. Robusta coffee has more caffeine than Arabica.
Does Roast Impact Caffeine Levels?
Do dark roasts have more caffeine than medium roasts? Does roast impact caffeine levels of the coffee?
Coffee roast can be light, medium or dark roast and there is only a slight difference in the caffeine content of these roasts.
Dark roast doesn't mean that it has more caffeine content than medium and light roast.
The main difference is that the more roasted the beans are, the more intense the flavor is.
Light, medium and dark roast differ in the time it takes for the beans to cook and the temperature they are cooked.
The beans of the light roast coffee are cooked for a shorter period of time and at a lower temperature while dark roasts are cooked longer and at a much higher temperature.
The length and temperature of the beans being cooked determines its flavor as roasting brings out the flavor and aroma of the coffee.
So dark roast has a more intense and rich flavor than medium and light roast.
The caffeine content decreases when cooked longer so light roast has a slightly higher caffeine content than medium and dark roast.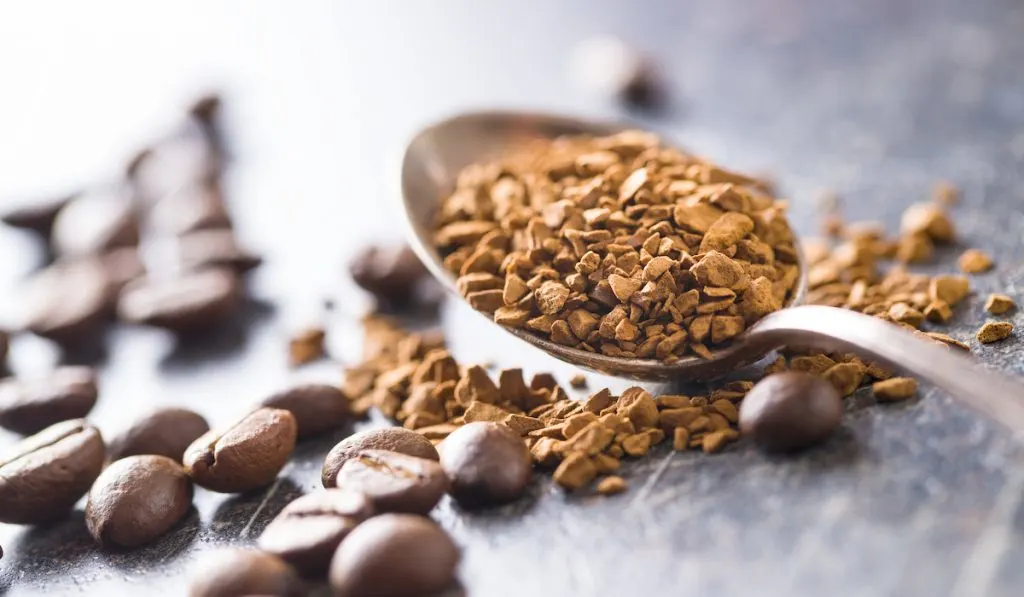 How to Figure Out How Much Caffeine Is in Your Cup of Coffee
There are many elements that affect caffeine content in a cup of coffee.
The caffeine content in each cup of coffee varies greatly from the roast, type of beans used and the preparation.
The caffeine level of a cup of coffee is difficult to measure by its size or variety of coffee.
We recommend checking the specific nutrition information on how much caffeine is in an instant coffee brand that you like.
Of course you can always add more coffee to your drink if you want a more caffeine in your cup of coffee.
Resources: